The Tragedy Of Elephant Slavery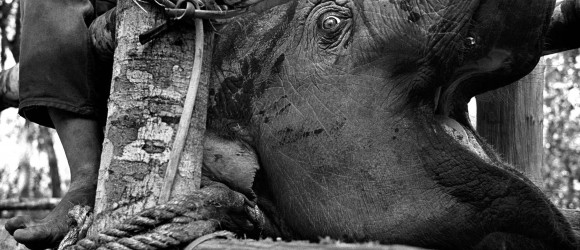 The Tragedy Of Elephant Slavery
Lives Denied
The Tragedy Of Elephant Slavery – the desire to be free is a primal instinct in every living being. Why will people die to be liberated? Because freedom is in the DNA of the human heart and soul. So why do we – our supposed evolved species – think that it is acceptable to deny this right to the animals of the planet. We do so in our ignorance and arrogance. Humanity has strayed so far from the innate beauty and dignity of the natural world that we are corrupt strangers on the journey of our planet.
Instead we use – abuse – discredit – destroy – torture – deny and kill. Our compassion – kindness – awareness and fairness have not matured at the same rate as our much bragged about "intelligence". Humanity is a selfish, ugly, gaping mouth consuming all that stands before it. As a collective we are so flawed as a species that we will not survive. We cannot be sustained by the resources that our planet has available to it. We rain destruction down on everything. We offer no mercy in out quest to control everything within our grasp.
There are many people who are aware – who are raising a united voice – but this sound is not yet loud enough. Nowhere is a cohesive cry more necessary than in the realm of our animals. They are begging us for justice. They need our compassion – and our help. They have a powerful voice that we are not evolved enough to hear.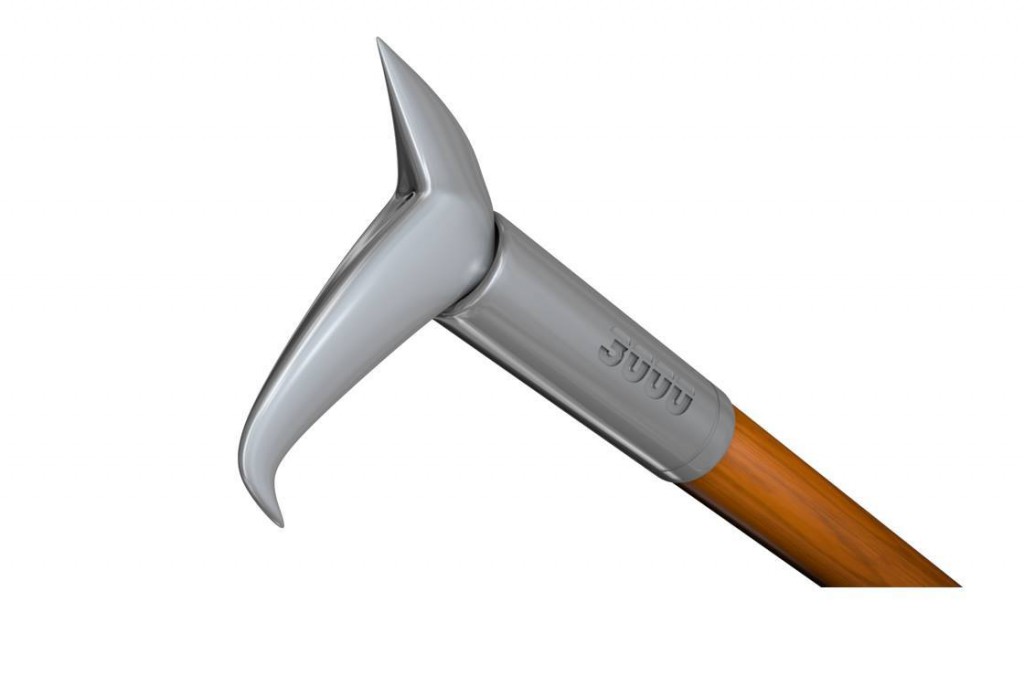 Outside of factory farming – puppy mills – shark finning and animal experimentation labs – there are few places where cruelty is more egregious than in elephant tourism and logging. Ripped away from their families as babies – elephant calves are tortured, isolated and broken from the moment of their captivity. Elephants are powerful (calves weight two to three hundred pounds at birth) – self aware – family oriented – emotional and wild. Their urge is to roam – to socialize – to be part of a family unit and to learn from their elders. All these natural inclinations are denied – pain and suffering replace nurturing. Behaviour changes and submission are achieved with ropes – chains – bull hooks – beatings – deprivation – darkness and daily fear.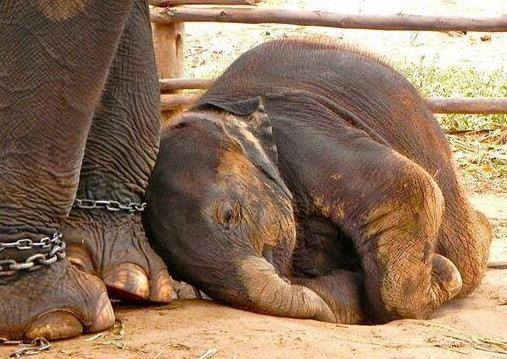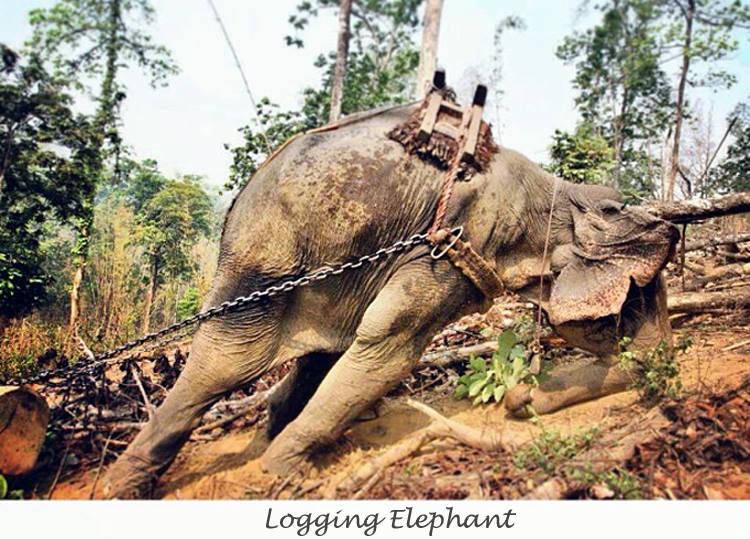 If you EVER engage in elephant related activities – outside of a recognized elephant sanctuary – you are a willing party to animal cruelty. You agree with the methodology for your own selfish ends. If you ride an elephant – buy an elephant painting – give to street begging elephants – play in the surf with a baby elephant – have your picture taken with chained elephants – have an elephant massage – go to a temple with elephants – buy products made from the logging industry – attend an event that has elephants as an attraction or ever pay money to be entertained by elephants – YOU are the problem. YOU are the reason for suffering that is impossible to imagine!
The following pictures are posted here with the permission of and with thanks to Lek Chailert of Elephant Nature Park – Thailand. Lek is a crusader – a champion and a saving grace for Asian elephants.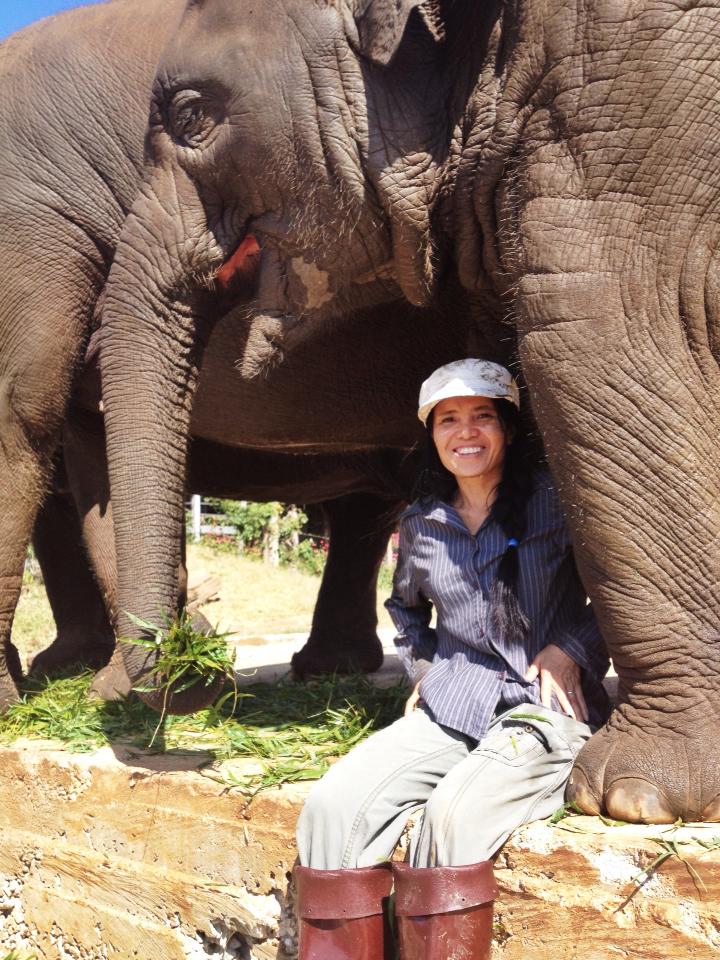 Words Are Not Necessary – This Is The Tragedy Of Elephant Slavery!
Left To Suffer For Endless Hours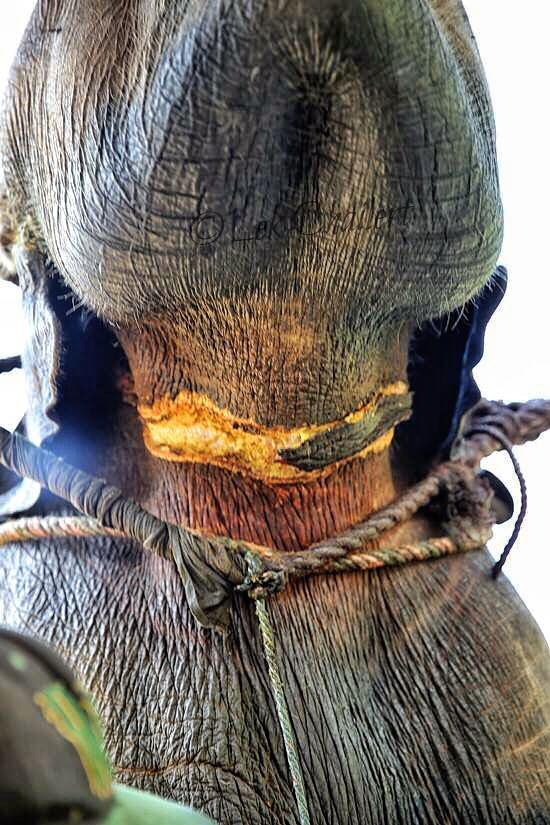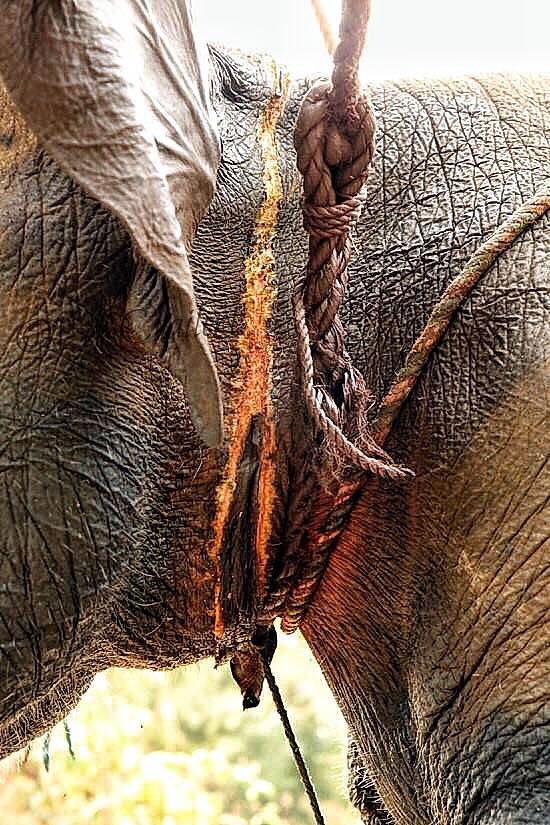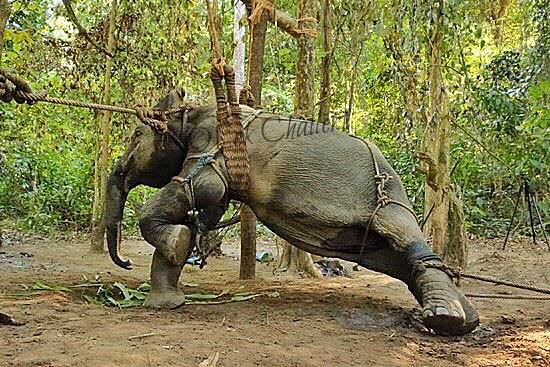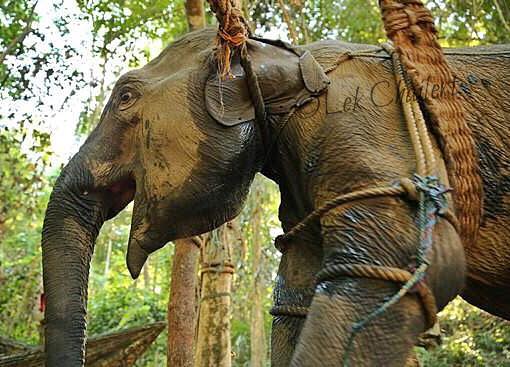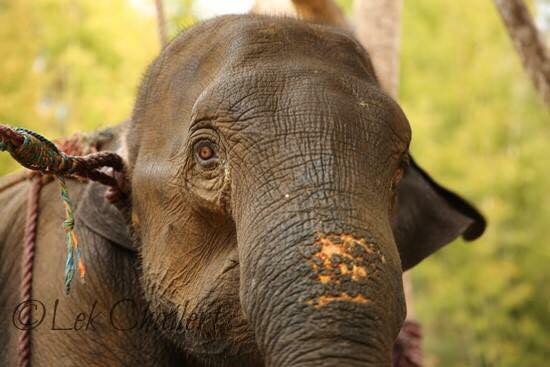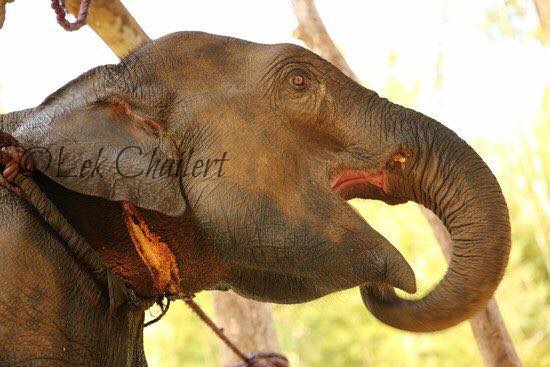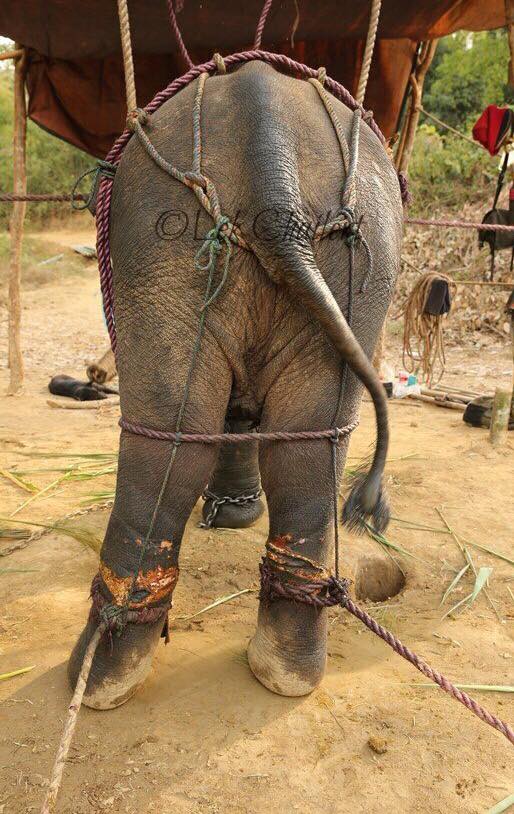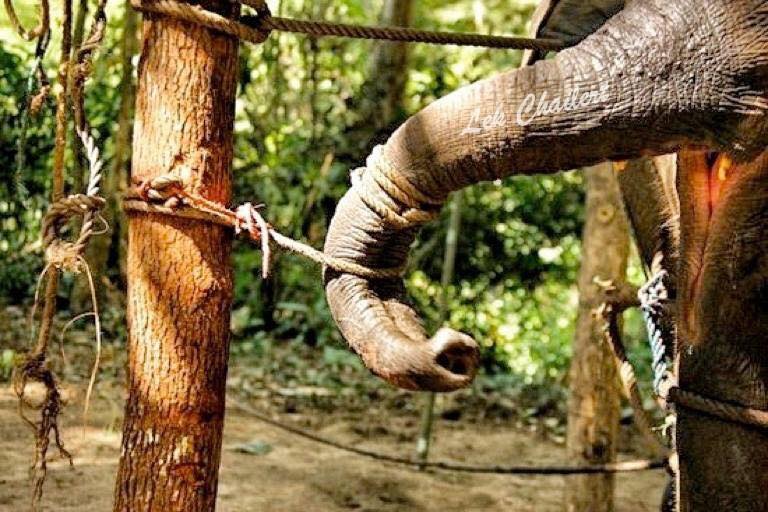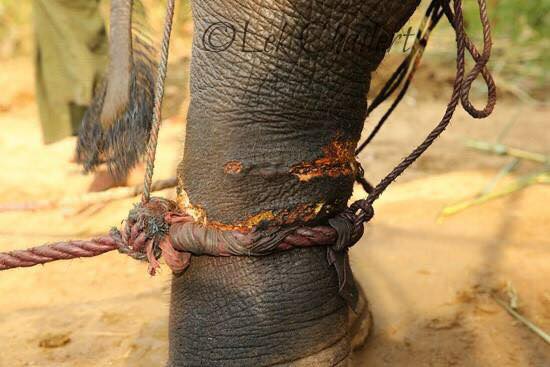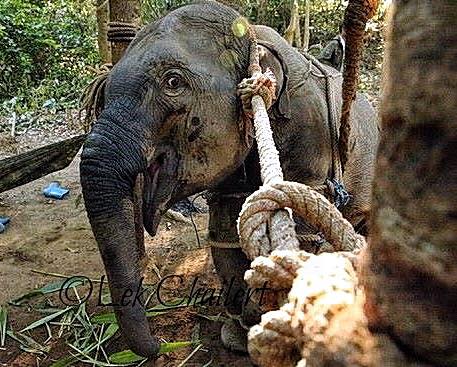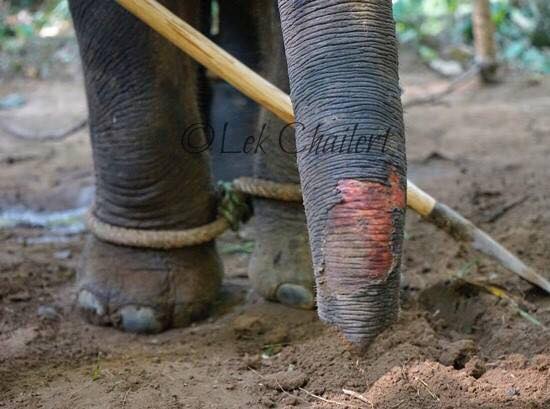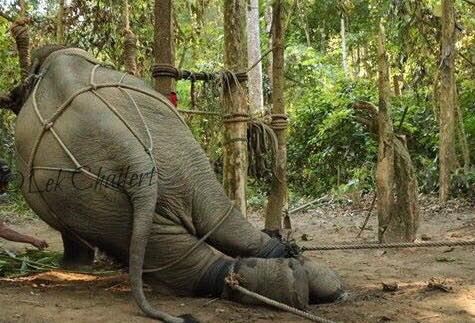 It takes a particular sub-set of the human species to do these things to a beautiful, intelligent animal. To be so cowardly and weak yourself that you cannot say STOP – this is wrong! I do NOT accept the " it's our culture and tradition – they are just animals for us to use rhetoric" that is bandied about to justify this savagery.
If you take part in any way with elephant related activities – outside of a recognized sanctuary – you might just as well have well tightened the chains, bound the ropes and wielded the bull hook yourself.
Baby Agam – A Little Elephant Loved By Lek  – But Sadly Lost Too Soon!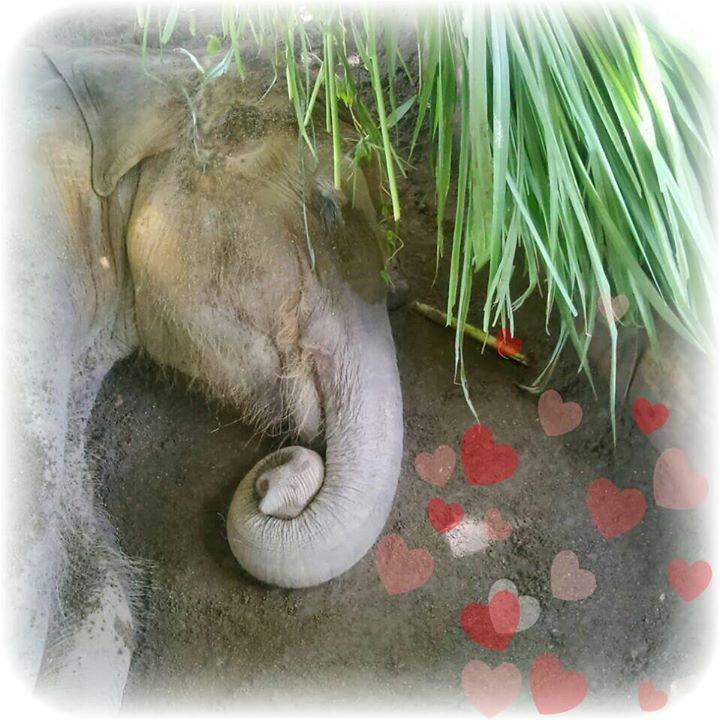 Nuan Jaan – A Slave Her Entire Life
Worked In A Trekking Camp Until Hours Before She Died. Her Broken Body A Testament To Her Endless Years Of Suffering At The Hands Of Her Owners And The Tourists Who Willingly Exploited Her!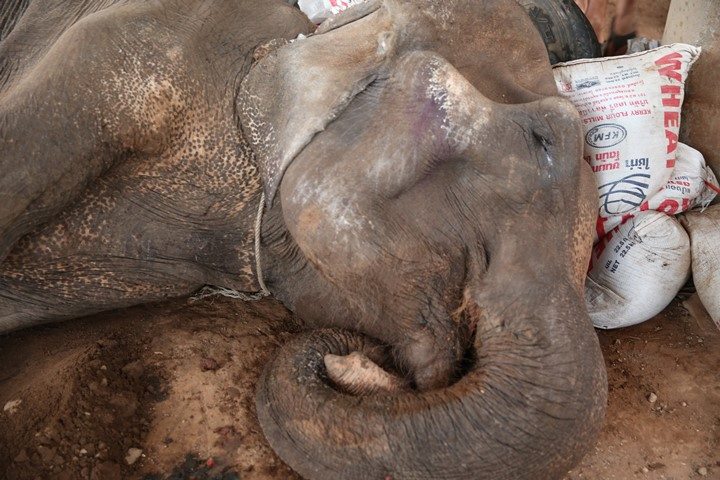 Do You Really Want To Be Part Of This Injustice?