The Red Shirt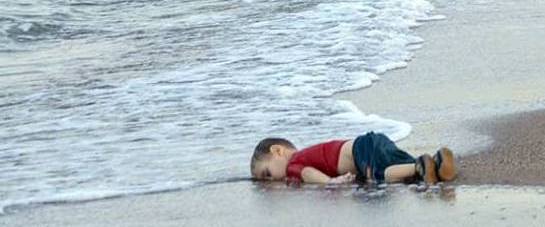 The Red Shirt 
I want to wear my red shirt Daddy when we go across the sea
It's my special one and I'll be the best boy I can ever be
When I'm on the boat I'll sit and be so very good
I'll hang on really, really tight and do everything I should.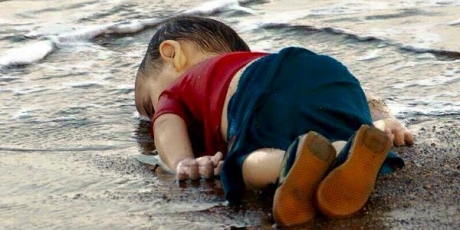 I want to wear my little brown shoes Dad
They've walked so far with me – the best ones I've ever had
When I'm on the boat my feet will be dry and warm
They may be scuffed and dull – but they can weather any storm.
I want to be beside my big brother, Dad
And though he sometimes makes me mad
I can hold his hand and feel his steady love
And watch you and Mom and see the sparkling stars above.
I want to cross the churning sea and touch the other side
I want my Mommie's tears to stop when we no longer have to hide
I want a place to lay my head where bombs no longer drop
When the world looks up and says that this must finally stop.
I want the boat to stop this awful pitch and fall
My red shirt is wet – the boat has coughed to stall
My daddy has my hand – the slicing waves are cold
Stop – my brother is slipping – gone – never to grow old.
I saw his face – my mother's too – such fear and love for me
I tried to keep my daddy's hand – then hang on to his knee
But the water crashed around me – its force was strong with greed
I slowly surrendered – it's quiet now – I have all that I need.
My red shirt is with me – my brown shoes still in place
I'm floating in the morning sun with a knowing, lonely grace
This did not have to happen in a world where leaders know
That people simply want to live and watch their children grow.
My body drifted quietly then softly touched the shore
Little brown shoes and my special red shirt – now the things of lore.
The politicians "oowed and awed" – with slings of fault and blame
When they should have stood together with heads bowed down in shame.
For history repeats itself when men with bombs and war
Can drive us from our homelands to seek a farther shore
And little Aylan Kurdi may your name be penned with care
And written on the hearts of those who know to love and share.
May the leaders who walk amongst – all ego, lies and talk
Know that a small boy in brown shoes and a little red shirt
Had the power to stop a running world and force us all to walk
May his sweet soul rest in peace while we soothe his father's hurt
And may we pause in our busy days and demand that all the strife
Is ended now – that peace returns – and honours a small boy's life.
In Memory of 3 Year Old Aylan Kurdi
Syria's Son
Rosemary Wright
September 4, 2015