Mohan and Wildlife S.O.S.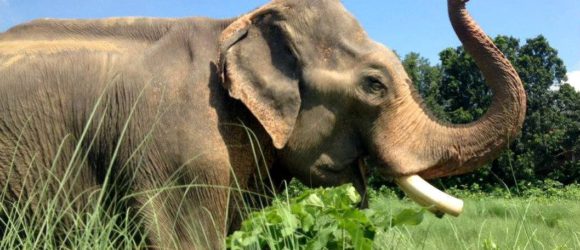 Mohan and Wildlife S.O.S.
Elephants Make The World A Better Place
Mohan and Wildlife S.O.S. – Elephants make the world a better place. Sadly most people don't know this and these gentle, perceptive and self-aware creatures suffer greatly because of human kind. Like many people around the world I watched the story of Mohan and the work of Wildlife S.O.S. to secure his freedom.
I cried tears of joy when he was finally free and I mourned when I learned that he had died. It is wonderful to know that during the last year of his life he experienced the touch of kind hands and the love and respect that he should have enjoyed for a lifetime. We have an obligation to create awareness for the plight of Asian, African and Indian elephants. Never support tourism of any kind where elephants are ridden, begging, painting, shooting hoops or playing polo, running into the surf, giving elephant massages on the beach, participating in temple festivals or engaged in any vulgar money-making enterprise for their owners.
Thank you to Wildlife S.O.S for allowing me to reprint their article about Mohan. This is his story.
Wildlfe S.O.S.
Our journey with Mohan started long before he arrived at the Elephant Conservation and Care Center. For more than a year, his hunched figure, weak and emaciated, had been in the middle of our most complicated and controversial rescue operations – and the fierce legal battle that accompanied them. After a volatile mob thwarted our first rescue attempt, repeated delays pushed back a second one even as the informants we'd deployed to keep an eye on him sent images of a gradually deteriorating elephant that left us all increasingly alarmed with every passing day. The newspapers began to call Mohan "the world's unluckiest elephant," and as hard as we were willing to fight for his freedom, it really did feel like fate had dealt him the cruelest of hands. Five decades of loneliness and abuse after being snatched from his herd and a life of freedom, Mohan's life of horror seemed like the cruelest of jokes.
By the time we had the legal paperwork to undertake another rescue attempt, we were afraid he wouldn't survive the rescue and the journey home – this magnificent being reduced to a defeated shell of an elephant. But we proceeded, fearing the alternative was worse. It was the stroke of midnight on the 22nd of September 2016, when Mohan gingerly boarded the Wildlife SOS elephant ambulance. The entire rescue team, hearts racing and absolutely silent, could suddenly breathe again, smiles impossible to control. It seemed as if things were finally looking up for the world's unluckiest elephant.
These are the moments from Mohan's life we'd like to look back on and remember him by: Bewildered but relaxed in the ambulance by moonlight, surrounded by a smiling rescue team, on his way to a better place. His first steps into the rescue center, the entire team waiting for him — in fact, beaming up at him as he tentatively made his way into his new home. His first walk at the center, fascinated by the sensation of grass and mud under his feet, and his utter joy in being able to scratch himself on a tree or toss cool mud all over himself. When Mohan was introduced to our young bull elephant Wally while out on a walk, he seemed reserved, almost wary, at first. But Wally's exuberance and excitement at meeting a new friend put Mohan at ease, and he walked beside the young elephant, occasionally linking trunks with him and rumbling at him.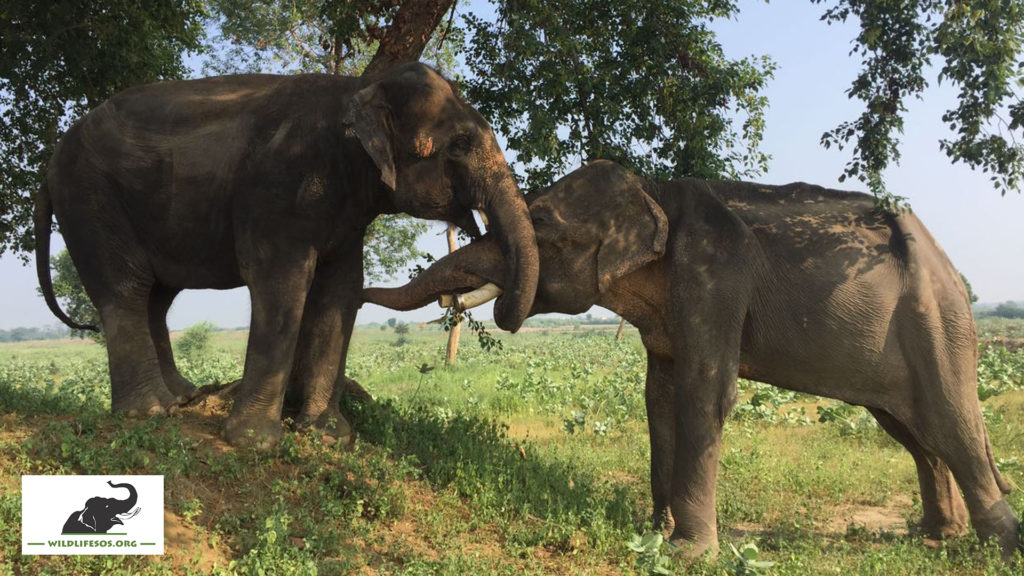 Mohan's interaction with everyone around him, his pleasant surprise at the sensation of his curious outstretched trunk being met with reassuring hands and cajoling voices, left us all in awe of this massive bull elephant's gentleness. For everything that human beings had done to him, Mohan was not vengeful. The bonds he developed with the staff were always defined by their calmness: Mohan listening patiently as his keeper talked to him while out on a walk, Mohan calm and cooperative as the veterinarians carried out the treatment routines that we hoped would heal the hurt humans had caused him thus far. He was a wonderful elephant to be around, his aura of gentle strength pervading anyone who had the absolute honor of being in his presence. We want to remember Mohan as he stood enjoying the drizzle of the rain on his body, and as he strolled carefree on his walks.
We want to remember Mohan resting his large head against the small human frame of his keeper during quieter moments of introspection and bonding, alongside memories of him lying perfectly still in his pool with the cool calm water engulfing his massive frame. We want to remember moments where he was at peace with the world.
This last month, luck dealt Mohan its final blow. As the abuse he faced his entire life caught up with him, a hairline fracture in his limb escalated into something more serious, his bones and his entire body too weak to combat the injuries.
We were determined to fight on for him, knowing in our hearts that he deserved a chance at a better life, and hoping against all odds that we could help him recover. But today, Mohan let us know that he couldn't fight any longer, passing away quietly amidst all the concerned and loving faces of the Wildlife SOS staff that has stood by his side unwavering through his ordeal.
The sad fact is that all of Mohan's life, it truly hasn't been "luck" that failed him. It's been people. Captivity and cruelty and the sort of abuse that Mohan endured his entire life had more to do with human greed and selfishness than anything else. Even as we look back on our happier times with Mohan and remember him for the kind, resilient spirit he was, we must also remember what he represented, and the lessons we need to take from his life – that it is up to us as human beings to fight on for him even though he is gone, to never give up on him, and to honor the memory of this majestic bull by doing everything we can to undo the wrongs our race has inflicted upon his magnificent brothers and sisters, until we live in a world free of the cruelty that enslaved him.
It's the least we can do. Rest in peace, dear friend.