I Am For Animals Fundraiser – Saturday August 6, 2016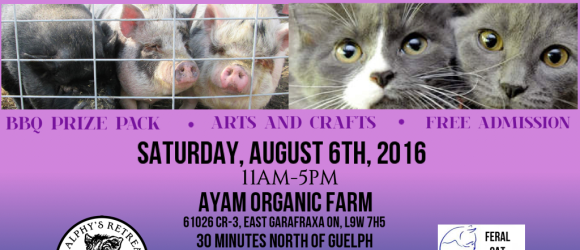 I Am For Animals Fundraiser – Saturday August 6, 2016
I Am For Animals Fundraiser – Saturday August 6, 2016 – People often throw up their hands and say 'someone should do something' for animals in need. They fail to realize that every positive action, large or small matters. Anastasia and Allison are two women – 'who don't say – they do'. They are organizing a fundraiser to support Ralphy's Retreat – a sanctuary for Pot-Bellied Pigs & Farm Animals and The Shelburne Feral Cat Rescue.
Fundraisers don't happen in a vacuum – Anastasia and Allison need your help. As Anastasia said, "We are in need of vendors. We need food, baked goods and anything crafty – all vegan – no leather please". Let's get busy and support these two amazing animal activists. You can attend the event, make a cash donation, contribute to the wish list of needed charity items, offer to help and share this post with family and friends. Everyone can do something for animals. It makes you a better person!
You don't have to be a business owner – we just need your vegan love – and your willingness to make a donation from the proceeds you raise. It's free for any  interested Vendor. If this is right for you, please be in touch and I will happily provide you with all the details".
CONTACT – Anastasia at – stasiabrady@gmail.com
FOLLOW – on Facebook – i am for animals fundraiser
EVENT ORGANIZERS
Anastasia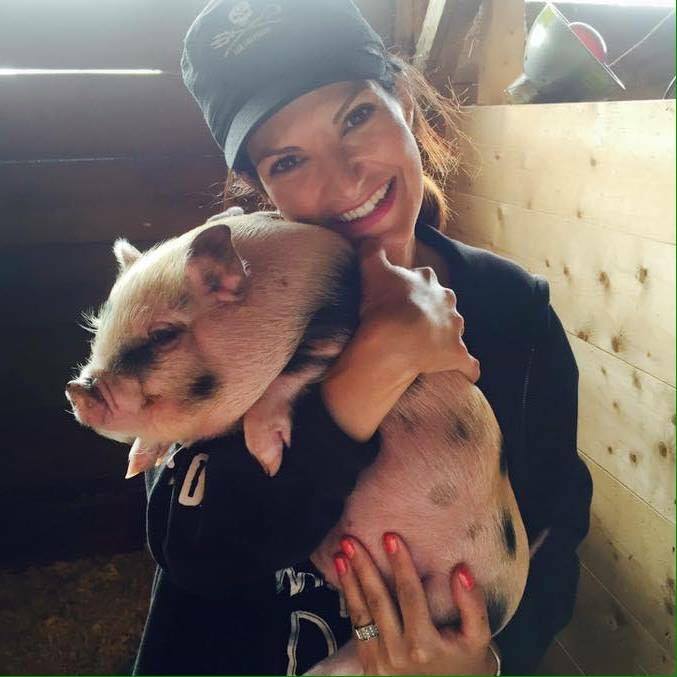 Allison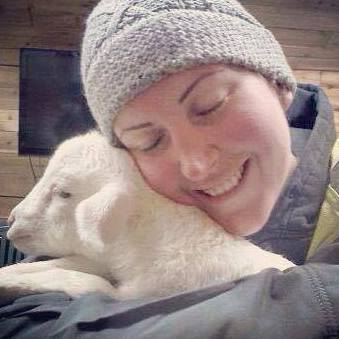 EVENT DETAILS
Please join us on – Saturday August 6, 2016 – 11:00 A.M. to 5:00 P.M. in support of:
Ralphy's Retreat
Shelburne Feral Cat Rescue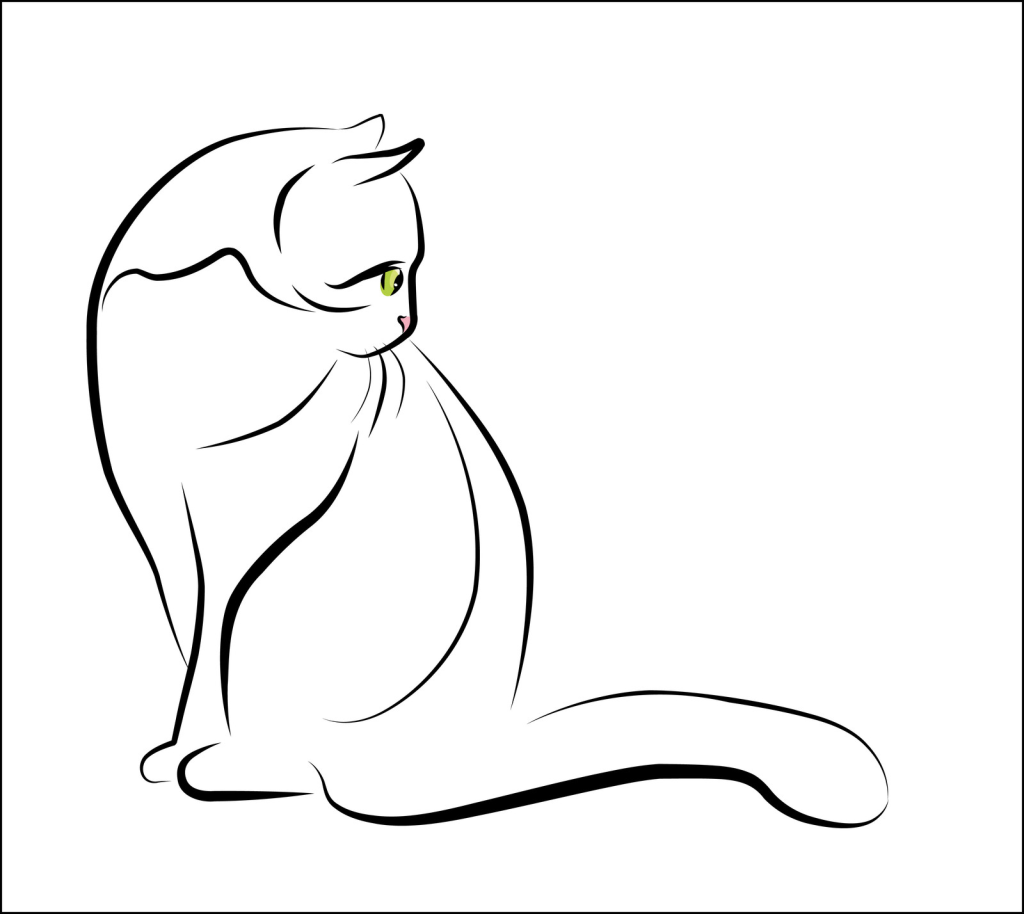 Share Your Day With Us and bring your family, friends, picnic blankets, frisbees and lawn chairs. With Belwood Lake Conservation Area, Fergus and Elora close by – it's bound to be a wonderful summer outing.
LOCATION
Ayam Organic Farm
Located 30 Minutes North of Guelph
(61026 CR-3, East Garafraxa ON, L9W 7H5)
WHAT OUR VISITORS CAN EXPECT
• 100% plant based food and baked goods (Gluten Free options available)
• Crafts and decor items
• Fresh MacIntosh Apples
• Live Music
• Raffles and Prizes
• Speakers
• Donation Bins
• Cash Only (some vendors may accept debit/credit)
Family Friendly
Free Parking
As Much As We Love Them – No Pets Please
VENDOR DETAILS
Free Entry For Vendors – donation requested!
Set Up Time – 8:00 A.M.
All items are to be 100% vegan
Vendors are required to donate a minimum of 10% – 25% of proceeds raised day of event
All monies raised will be split between Ralphy's Retreat and the Shelburne Feral Cat Rescue
Vendors are responsible for any equipment required for set-up, Folding chairs – tables – tent – booth etc.
Electricity and power outlets will not be available. Please ensure food items are packed accordingly in coolers
Due to hot weather, please consider items you are brining
Food vendors – MUST – list ingredients if nuts/seeds are involved (in case of allergies)
All vendors are required to comply with the terms and conditions of the event agreement and to return a signed copy to event organizers prior to event
Please bring your own table, chairs and tent
Coolers for food/baked goods. Be mindful of what type of food/baked goods you bring as refrigeration will not be provided.
Each vendor to come with a float and cash box (or whatever you use). Whether they decide to accept debit or credit is up to the vendor.
CHARITY ITEMS WISH LIST
WISH LIST – For Ralphy's Retreat
-Gently used fleece blankets & towels
-Rubber-back bath mats
-Rolls of paper towel
-Fruit & Vegetables (bananas, melons, apples, pears, carrots, grapes, strawberries, spinach etc)
-Whole Corn (from the feed store)
-100% Canned Pure Pumpkin
-Bales of straw
-Pine Shavings (From TSC or feed stores)
-Dried fruit – apricots, mango, raisins
-Porridge Quick Oats
-Dog Toys that can be stuffed with treats
-Puppy Training Pads (Lrg or XL)
-Canned Cat Food (Friskies or PC Brand)
-Canned dog food (PC Brand)
-Building Supplies (lumber, steel roofing, shingles etc)
-Gift Cards – Home Hardware, Home Depot, Lowe's, Grocery Stores etc.
WISH LIST – The Shelburne Feral Cat Rescue
– Cat food (any good quality brand – better for cats)
– Chick Grower Feed (for kitty litter)
– Kitten milk (KMR brand)
– 1 ml syringes
– Sherpa fleece
– Canadian Tire money
– Latex gloves
– Hot water bottles
– Paper towels
– Empty beer/liquor bottles (to return and pay for vet bills)
EVENT RE-CAP
NAME OF EVENT: I Am For Animals Fundraiser
EVENT ORGANIZERS: Allison and Anastasia
DATE: Saturday, August 6, 2016
TIME: 11am to 5 pm
LOCATION: AYAM Organic Farm, 61026 CR-3, East Garafraxa ON, L9W 7H5
(75 min from Toronto, 30 min from Guelph)
*FREE ADMISSION (small donation suggested at the door)
*FAMILY FRIENDLY
*LIVE MUSIC
*FREE PARKING
*PRIVATE PROPERTY
*LAWN CHAIRS, FRISBEES & PICNIC BLANKETS ARE WELCOME
*DONATION BINS FOR CHARITY WISH LIST ITEMS WILL BE AVAILABLE
*OUTHOUSE ON PREMISIS
*NO PETS ALLOWED