EllaPhant Angel

EllaPhant Angel
EllaPhant Angel – Ella is a smart, delightful young girl from Canada who adores elephants and made a decision to help them. She is a staunch supporter of The David Sheldrick Wildlife Trust and absolutely loves "elephant related" gifts for birthdays and Christmas.
I sent Ella a list of questions about elephants and this is what she thinks.
1) How old were you when you realized that you liked elephants?
I was probably about four or five when I started to like them.
 2) What do you like about elephants?
I love everything about them, especially their big ears. I think their ears are cool because they are shaped like the continent, Africa.
 3) Why do you think elephants are important in the world?
Elephants are part of nature and if they were not there another species may not have survived. It is important to keep them alive because it shows humans care.
4) What message do you have for people who want to have ivory?
I would tell them that it is bad because it hurts the elephants and the elephants did not do anything bad to anyone.
5) Why is The David Sheldrick Wildlife Trust important?
The David Sheldrick Wildlife Trust is important because they rescue elephants that are orphaned. One of the main reasons elephants are orphaned is because of poachers. An older elephant needs its family to protect him and might not survive on its own. A younger elephant needs milk, someone to teach him, and protection from the older elephants so he has a chance of surviving as well. When the elephants are at the David Sheldrick Wildlife Trust they get the care they need to be strong and healthy to go back in the wild.
 6) What are the names of your elephant orphans? If you could hug your little elephants – what would you say to them?
My elephant orphans are named Lentilli and Mudanda and they are both girls. If I could hug them, I would say "You're sooo cute!"
Lentilli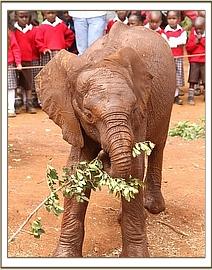 Mudanda
 7) Do your friends like elephants?
Yes and one of my friend's favorite animals is the elephant too.
 8) Have you ever seen a real elephant? If so – tell us about it.
I have never seen a real elephant but next year I am traveling to Kenya with my family and we will visit the David Sheldrick Wildlife Trust and I will be able to see Lentilli and Mudanda.
 9) What do you think of people who keep elephants chained in a circus?
I think this is a bad thing to do because how would they feel if a person did that to them. People should treat animals like they want to be treated.
 10) How can kids around the world help elephants?
They can adopt elephants and donate to the David Sheldrick Wildlife Trust and other similar charities. They can raise awareness by telling others to help elephants and letting them know what is happening to the elephants.
11) What do you think of what Celia Ho is doing in China to help elephants?
I think what she is doing is great. It's good to know that other kids in the world love elephants to and are trying to help them.
 12) What do you want to do next to help elephants?
I would like to do something bigger than I have been doing but I am not sure what yet.
We have not heard the last from EllaPhant and when she is ready to do something "big" – we will be behind her to help.
EllaPhant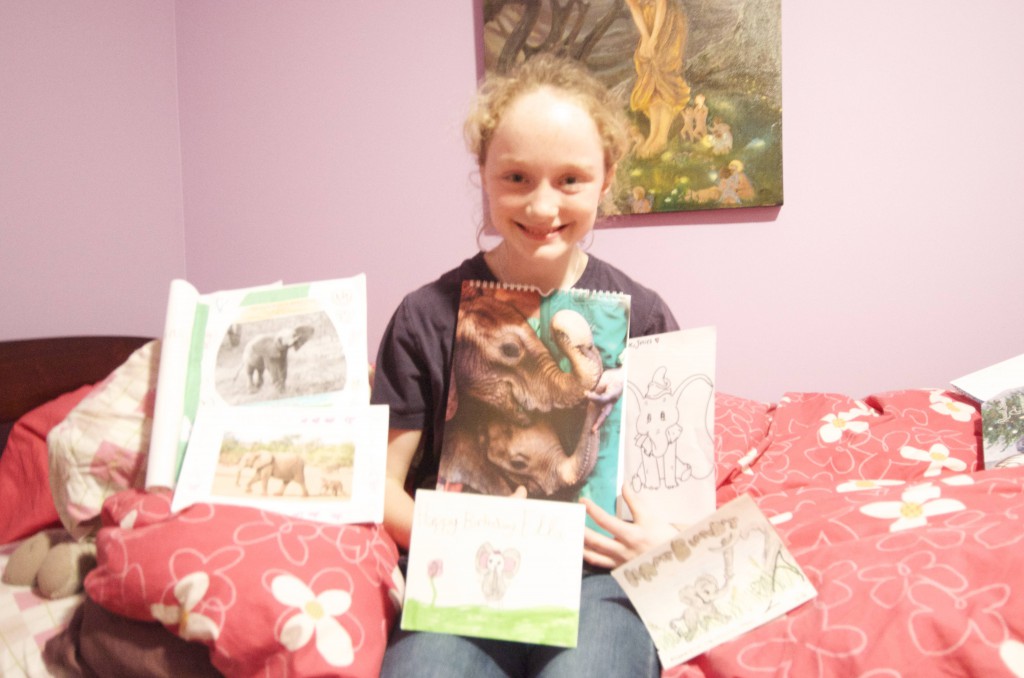 Youg people like Ella – who are creating animal awareness as children – will grow up to be the fierce animal champions of the future – and I can't wait to see how much they will accomplish.
It will be a thing of beauty!
 I am very proud to have Ella as a contributing writer on ABH Kids!