Wolves
"We have doomed the wolf not for what it is, but for what we deliberately and mistakenly perceive it to be – the mythologized epitome of a savage, ruthless killer – which is, in reality, no more than a reflected image of ourselves." … Farley Mowatt
There is a deep-seeded, mis-guided and generationally perpetuated hatred of wolves in many parts of the world – as Farley Mowatt has so eloquently stated above. Long held religious and secular beliefs vilify wolves "He runs with wolves" – "our flocks are never safe from the wolves" – the dead resemble wolves" – "the were-wolves are outside the door" – to paraphrase a few.
Read More

»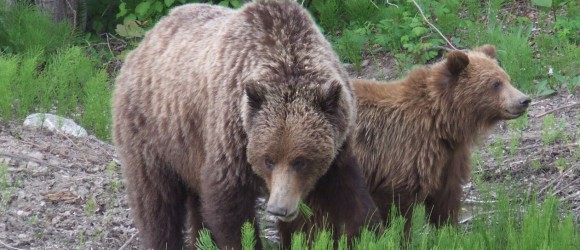 Bears
"When all the dangerous cliffs are fenced off, all the trees that might fall on people are cut down, all of the insects that bite have been poisoned – and all of the Grizzlies are dead because they are occasionally dangerous, the wilderness will not have been made safe. Rather, the safety will have destroyed the wilderness". … R. Yorke Edwards – Canadian Environmentalist
This quote can apply equally to all bears. When the heart of the last bear ceases to beat – will man be satisfied? Who will the trophy hunters stalk next? Will the politicians say – well it didn't happen on my watch?
Read More

»